Site Specific Works
Clifford McLucas: the Artistic Director of the Welsh performance company Brith Gof. Trained originally as an architect, McLucas joined Brith Gof in the late 1980s specifically to create large-scale, site-specific performance events.
At this time, his contribution to the company manifested itself in a suite of three large-scale pieces. The first, Goddodin, a collaboration with Test Dept., the London- based industrial music collective, was premiered in Cardiff, Wales, in the old Rover car factory in the docklands area of the city. The performance was subsequently restaged in a working sand quarry in Polverigi, Italy, an old crane factory in Hamburg, Germany, and an ice hockey stadium in Frisland, the Netherlands. The second work, Pax of 1991-2, was performed in Cardiff, the Harland and Wolff shipbuilding yard in Glasgow, and the British Rail Station in Aberystwyth. Haearn (Iron), the third piece of the series, was created in 1993 for the Old British Coal Works in the small post-industrial town of Tredegar in South Wales. Haearn was created as a joint production between Brith Gof, the BBC and S4C. Subsequently, McLucas created Y Pen Bas/Y Pen Dwfn (The Shallow End/The Deep End) in Welsh-language and English-language versions solely for the television medium.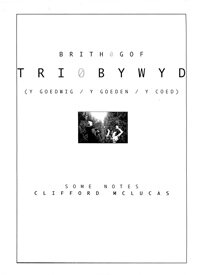 In the mid-1990s, McLucas sought to re-engage the company with its Welsh-language constituency. The work that was the medium for this new engagement was Tri Bywyd (Three Lives) of 1995. At this time, McLucas relocated a significant component of Brith Gof's operation to the University of Wales in Lampeter in order to embark on a series of site-specific works in non-urban Locations.

The models developed in Brith Gof's recent works aim to develop notions of site-specificity into new arenas. Using technologies of site, discontinuous techniques of performance, and incorporating closed-circuit video as well as complex radio microphone relay systems, McLucas has sought to develop a contemporary theatrical practice within contexts that are often assumed to be 'traditional'. In this context, McLucas is committed to a culturally specific creative practice that can engage with real locations, histories and identities while resonating within wider international arenas. This practice is one which seeks ways of expressing and animating located identities not as simplified and essentialist narratives, but as fractured and negotiated, sophisticated strategies for survival.
Background images are held in the National Libraray of Wales collection
1. Y Pen Bas Y Pen Dwfwn, ink on paper drawing
2. Three Landscapes booklet - Hafod
3. - 7 Tri Bywyd script also published in Nick Kay's book 'Site Specific Theater', Routledge 1995
8 Three landscapes booklet - Monte Polizzo
To preview background images in fullscreen - Select the VIEW button below.